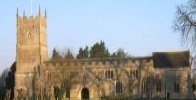 St. Nicholas, Ashchurch
Photograph Gallery of Church Events
To download the PCC Privacy Notice, click here.
To download the Incumbent Privacy Notice, click here.
Visit by Bishop Rachel
25 March 2018
Bishop Rachel led a teaching session in church on Sunday afternoon on The Meaning of Lent. Bishop Rachel had taken services at Trinity church in Tewkesbury earlier in the day and then, after lunch, led a pilgrimage from Tewkesbury out to Ashchurch, offering prayers at five points along the route.